Description

Details

NAME: Carefree Collection Wig ENIKO WIG
COLOR SHOWN: FD1B99J
MATERIAL: Synthetic
TYPE: Wig
LENGTH: Medium
HEAT SAFE:
DESCRIPTION:

Additional Information

Additional Information

| | |
| --- | --- |
| Brand | Carefree |
| SKU | AL10741 |
| Style | Curly, Spiral Curl, Straw Curl |
| Special Price | $16.19 |
Customer Reviews
Write a Review
Ask a Question
07/21/2020
Fifi
United States
02/17/2020
dorothy .
United States
I love this wig!
I bought two of these wigs , both different colors 1 and 99J. I watched a youtube review on synthetic wigs last year that gave me a lot of insight on wigs. I learned that a lot of synthetic wigs are mass produced by machine . They will be different for that reason. So I don't complain about wigs for that reason,I know they are not all going to be identical . Both these wigs fit differently which is okay . One is more of a petite to average size cap while the other one is clearly average. However with both of them the hair texture is the same soft and comfortable to wear. I never have to worry that they will itch my scalp . They feel great! I am so glad that I bought them!
02/17/2020
jayefromjersey
United States
Love it!
I bought this wig after reading the reviews and looking at a you tube review. The wig is very soft and the cap well I would not call it big head friendly. I have a petite head and it fit me perfectly out of the box. I struggle finding wigs that fit me . I gave up on it really and just use water based glue when I wear them . Most wigs are made for average heads . But this one is ideal for the petite to average head. There is not much stretch there that I can see , and I have purchased a lot of wigs. I have hair loss so I have to wear wigs . I have a style just for work and when I go home I switch and wear another style for home. It is like not wearing the same pair of shoes for 16 hours. Your head (my head ) needs a break and I work 12 hour shifts. I wear this wig at home. Because it is so soft you don't mind it falling a little in your face with movement. I have 2 and will probably buy more. It is my kind of style and the price is right!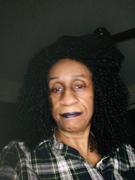 updated
I got this wig about a year ago, and it's still full of life and volume. I wear it without any leave out (I only have about an inch of hair lol)_x000D_ I did cut this unit because as the curls stretched the hair blocked my vision. _x000D_ _x000D_ _x000D_ The photo with lipstick is from this week, the other is from when I first got the unit.