Description

Details

Freetress Equal Lace Front Wig AMERIE
COLOR SHOWN ON MODEL: 1
MATERIAL: Synthetic
TYPE: Lace
LENGTH: Short
HEAT SAFE:Up to 400F
DESCRIPTION:

Pre-cut, pre-styled wigs that has look and feel of natural human hair.
Quick Style in Just 1 minute.
No Glue, No Tape necessary.
Can use curling iron upto 400F.
Longer Invisible Lace from ear to ear.
A one-size fits all adjustable cap.
Securing with front and back placement combs.

Additional Information

Additional Information

| | |
| --- | --- |
| Brand | Freetress Equal |
| SKU | 82000005 |
| Style | Layered, Straight |
| Special Price | $29.95 |
Customer Reviews
Write a Review
Ask a Question
09/19/2020
C. Shay Campbell
United States
Great
I'm absolutely a fan of Amerie Lace front. I've worn It for years now.
08/28/2020
Toyin O.
United States
NOT a bad lace wig
Overall, not a bad lace wig. Pros: 1) Light density/thickness which makes it look natural for a Black woman (unlike those big hair/thick wigs that look SO FAKE.) 2) The lace is tinted or a good/undetectable color for a Black woman, so you don't need to tint the lace 3) The length is believable for a black person. 4) Requires little work , you don't need to pluck or style. Perfect for people who has little time to waste. 5) It fits tightly, you don't need sew it down or use elastic band. 6) Apart from the exorbitant shipping fees, it is affordable. Cons, 1) It SHEDS a lot. 2) It does not stick to your scalp or forhead, so you need a gel Glue or strong gel. 3) It does not have enough lace in the front which makes styling limited. 4)Wish Freetress made this same kind wig as a longer 360 lace where you can put it up in a long pony tail since there is lace all around. But overalll a good wig for a black person It does not have enough lace t
07/10/2020
Michael L.
United States
For small heads, and not much lace.
This is my second time purchasing this wig. I like it because it is lightweight and made for smaller heads (I have a hard time finding petite wigs that are long). The hair does also tangle a bit. My biggest complaint is the small amount of lace for parting. It only goes about one inch back from your hairline.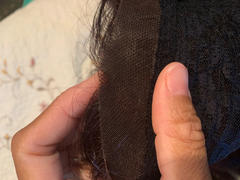 06/17/2020
Tiffany C.
United States
Excellent hair and service
The service was excellent. Amerie, is a fun, light, comfortable wig.
03/16/2020
leaughndraeh w.