Description

Details

NAME:

It's a Wig Lace Front Long & Curl Wig OCEAN WAVE

COLOR SHOWN:

1

MATERIAL:

100% Premium Fibers

TYPE:

Lace front wig

LENGTH:

Long

DESCRIPTION:

Premium Fiber Hair.
One size fits all: Adjustable cap with placement combs and sculpting tabs to ensure a perfect fit.
Open hairline design keeps the hair off your face.
Elegant waves for volume.
Available in many colors.

Additional Information

Additional Information

| | |
| --- | --- |
| Brand | It's a Wig |
| SKU | itlfwocean |
| Crimp | Loose Wave |
| Special Price | $24.31 |
Customer Reviews
Write a Review
Ask a Question
07/02/2020
Candace R.
United States
Ocean wave lace front
This wig is lightweight perfect for the summer my mother loves it.
Amazing wig!
This wig is fantastic. I've been wearing lace front wigs for about 2 years because I have very fine hair. I also have a B.F.A, in wig and make-up design from Penn State - so I know wigs well. It's often hard to find a natural, light blonde, and the dx2002 mix is absolutely gorgeous. This is the second time I've purchased this wig, once from my local hair store, and then once on this website. I actually found that the wig on this website had a much nicer and longer lace parting on top, then the piece I got at the store. I wonder if the store wig was older, and perhaps the brand had improved the parting space. I got about an inch and a half from the ebony online wig, and only about half an inch from the same wig I purchased at the store. Also, the wave/curl pattern is amazing. It's loose and easy, very beachy and casual wave that is perfect for day to day wear. Like all synthetic lace fronts, the hair gets a little rough and starts to tangle after about two weeks (I wore it every day), but nothing a little spritz of water, or a light run through of a flat iron couldnt fix. I also trimmed the ends about 2 weeks in, just slightly to freshen them up. The density of the hair on the lace could not be more natural. I've also purchased "It's a Wig" named "Fine" in the past, and found their hairlines to be one of the most natural I had ever seen, and I've worn at least 200 wigs over the past 2 years (and I'm typically a Freetress girl). This is one of the few wigs I'll order over and over again. Like all my light colored wigs, I add a root with medium brown eyeshadow, and I plucked the parting slightly, only to match the width of my own part. The parting space is pretty damn great and you can do a middle or side part on both sides. I'd say the length is about 18 inches with long layers. I'm also a hairstylist at an upscale salon, and no one has any idea that this isn't my real hair. However, I recommend these wigs to all my hair loss clients. LOVE IT.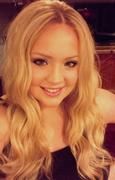 beautiful
I love this wig wave. The length is sexy. I have it in black 1b and it looks very natural
tangle a lot
pros: feel natural, look really natural_x000D_ _x000D_ cons: tangle a lot, fit big
best lace front
This is by far the best lace front that I have had so far. The hair is very soft, and keeps its pattern. It isn't fake looking AT ALL. it has a yaky, yet silky feel so it looks natural, even the hair line looks natural enough to put in an up-do. The package claims that it doesn't tangle, but it does just a bit but the tangles come out easily and goes back to its original state. And the greatest thing about this wig is that if the fibers start to fray( especially with curly patterns ) you can straighten her because she takes heat up to 400F_x000D_ Great wig!