Description

Details

Janet Collection Brazilian Bundle Hair 100% Remy HH BOMBSHELL NATURAL WEAVE 10-12 to 16-18 Inch

Janet Collection Brazilian Bundle Hair 100% Remy HH BOMBSHELL NATURAL WEAVE 10-12 Inch
Natural Hair
Chemical Free
Tangle Free
Long Lasting
Easier Styling and Care
Durable and Flexible
Hair Remains Rich and Vibrant
Healthy Live Cuticles Flowing in One Direction
Shed Free

Additional Information

Additional Information

| | |
| --- | --- |
| Brand | Janet Collection |
| SKU | jcNATURALWEAVE10T12b1g1 |
| Crimp | Unprocessed |
| Special Price | $27.90 |
Customer Reviews
Write a Review
Ask a Question
Some awesome hair
I installed this hair on my client. I dyed the natural brown to black, and It took very well to color. The hair is so super soft and of such good quality that I hated to cut the it, but client wanted a super short hairdo. I didn't notice any shedding, and it held its curls. I would definitely purchase again!
Fabulous
I love how soft it is. Very beautiful. I can't wait to color it. I just installed it today
Best Hair ever!
I love this hair...I used to do hair, so I know the importance of a good weave;It's all about the hair! I have ordered this hair over-and-over because I was so satisfied with the quality, the price and the durable. I have ordered 8-bundles of this hair over the last 2-months just because I don't want to miss out on the BOGO deal! I got a wig made, two bundles dyed, a bob-weave and saving the rest. I imagine I won't have to buy hair until 2017 LOL. Lastly, I get endless compliments and have spent hundreds on 'good' hair in the past but this is by-far the best for a fraction of the cost! Thumbs up Ebonyline!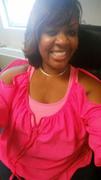 Price is really good
This hair is so easy in every way. It doesn't shed, has a great bouce and blends very naturally with my flat-ironed chemical free nautral hair. I used 1.5 packs of the 10 inch and cut it into a nice bob. Just to compare prices my local beauty story has he price at $80 1 pack 30% off but it still doesn't beat the $36 I paid total for 2 packs. And it came super fast.