Description

Details

Lip oil treatment gloss

Deeply hydrating, this lip-loving formula replenishes and binds moisture to reduce the appearance of fine lines and wrinkles. Packed with powerful antioxidants and amino acids, you'll be able to revive even the most chapped lips, leaving with you a vibrant, rosy, glossy glow!





What it Does:

Deeply hydrates the lips
Replenishes & binds moisture
Reduces the appearance of fine lines & wrinkles
Packed with powerful antioxidants & amino acids

Additional Information

Additional Information

| | |
| --- | --- |
| Brand | Kiss (Ruby Kisses) |
| SKU | rklipoil |
| Special Price | $1.76 |
Customer Reviews
Write a Review
Ask a Question
must have product!!
i seem to always have issues with locking in moisture, especially my lips....chapsticks do not do justice..throw those out....so when i saw this in my local beauty supply store, i did not hesitate to try it out, and let me tell you, it is amazing. i even misplaced the first one and had to go back and buy another one, it leaves my lips looking and feeling soft, healthy and moisturized for hrsssss....so ladies give it a try you wont be dissappointed!! :-) www.lalasclosets.ca
oh my! i am in love
this is a wonderful product. my lips were dry and chapped and peeling for days until i used this product. i tried carmax at first but that kept giving me that white line (that no one likes to tell you that you've got!). i bought this earlier today applied it and just before brushing my teeth tonight i noticed that my lips looked moisturized and want peeling. i then added a dab more of ruby kisses before i laid down.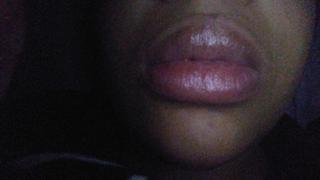 great product, but....
it's a great product, i love it! however there is a downside...i've been buying this product for years, and every single time without fail, a crack always forms below the opening on the tube. when this happens, as you go to apply the oil to your lips, it leaks an excess amount. also be careful having this in your purse, car, make-up bag...it will leak, causing anything around it to become oily/sticky.
by this only if you want young, soft , tempting kissable lips that are healthy!
i purchased this also in a beauty supply store and just about lost my mind when it did everything it said it would do. it is truly lip therapy._x000d_ _x000d_ i sell cosmetics and lips are my specialty, but in order for your lip color to really look rich or natural, you simply must start with healthy hydrated lips. we have all seen those ladies with lips that look like little razor blades with lipstick on them! it's gross and nasty! _x000d_ _x000d_ with ruby kisses hydrating oil, your lips look even better bare. one more thing that may be important for others like me. i sleep with a c-pap mask on my face that use to dry my lips out terribly, but with this product my lips are still moist in the morning. but the real litmus test is the fact that i live in colorado, one of the driest states ever. the major complaint here in chronic chapped lip and nosebleeds at night because of the dryness._x000d_ _x000d_ i don't have that problem anymore. it is truly economical because it last so incredibly long. i have used one tube for almost 9 months. use a generous amount before bed, and just a dab only to lightly coat the lips before lip color. you are gonna love this stuff.
you have to try thhis
my lips chaps really bad in the winter to the point that i can pull a half inch of skin off. i went to a local store and found this lip oil laying on the counter. i purchased and put some one. ladies you talking about something smooth and long lasting. this is it! i felt the lio oil working. hours later my lips were back smooth and healing. i love this stuff. you really have to try it for yourself. you have nothing to lose