Description

Details

Saga Remy Human Hair Invisible Part Closure 10 - 12 Inch

Simple styling with the perfect finish
Quickly weave a fabulous invisible part

Step by step instruction

1. Eye mark the area where you wish to place the Saga Remy Invisible Part. Divide your hair vertically to create a natural part line and proceed to neatly cornrow your hair to your comfort. (For a blended part, leave out a portion of your own hair in which you will place over the part on the final step.)

2. Weave up to the pre-determined invisible part area the Saga Remy Weave extensions.

3. Place the Saga Remy Invisible Part over the oval center, making sure to align the Invisible Part's weaving wedge over the vertical hair part line.
Sew-In/Glue tightly along the weaving wedge and then around the lace surrounding the pad to complete the look. Lastly, cut off any excess lace.

4. Finished Look
Now, with a fabulous Hair Part, style your hair to your desire.

Additional Information

Additional Information

| | |
| --- | --- |
| Brand | Saga |
| SKU | NV010 |
| Style | Straight |
| Special Price | $4.46 |
Customer Reviews
Write a Review
Ask a Question
12/28/2019
Tina
United States
Works for me
I bought some lace and glued and sewed it to the closure to create lace-part closures. For the most part, they turned out pretty good. The hair is a soft with a nice texture that blends well with the hair I purchased to make wigs. My only issue is the color 1 is not as dark that if the hair I'm using for the wigs, but it isn't super noticeable. At the price I bought them for, they are well worth it.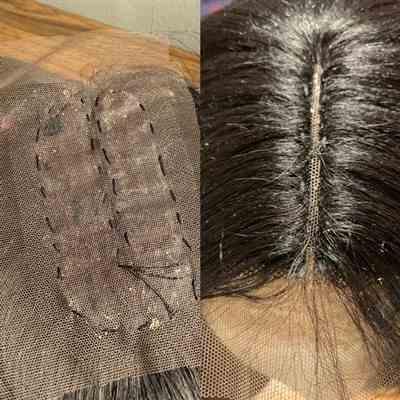 Love that closure part ,want
Love that closure part ,want to buy more .
Good but a little thin!
Easy to install.
invisible part and new me!
THIS IS A GREAT INVENTION, ITS AS GREAT AS IT LOOKS! AND OF COURSE ITS SAGA REMY SO YOU KNOW THAT THE QUALITY IS GREAT! ONCE YOU OPEN IT, THE PACK IS SELF EXPLANATORY AND VERY EASY TO INSTALL! I AM LOVING MYSELF RIGHT NOW!! : )
IM IN LOVE
Perfect!!!! looked so natural i had everyone asking about. i absoutly love it, will definitly buying more products from here. Quick and easy to use