Description

Details

Bohyme Remy BRAZILIAN WAVE Weaving 10 - 22 Inch

Bohyme uses only the finest 100% Remi human hair. Brazilian Wave is long lasting, curly hair. Soft, natural curl makes it very manageable. This product can be made into an even deeper curl texture by wetting it. You don't want to miss out on this incredible light texture.

Additional Information

Additional Information

| | |
| --- | --- |
| Brand | Bohyme |
| SKU | bhpbw |
| Crimp | Brazilian, Wavy, Yaky |
| Special Price | $144.95 |
Customer Reviews
Write a Review
Ask a Question
Love this hair
I have had this hair n for about a week I have micros in the front with braiding hair n a sew n for the back n it is gorgeous so full only used one pack
I've been wearing this hair since 2009
Everyone thinks its mines. Everywhere I go, people take pictures of me and I get endless compliments. It all depends on the products you use with the hair, I only buy expensive products like kericare, miss jessie. they have its worth. a cheaper great product is "Shea moisture" raw shea butter. you will get beautiful curls. and buy a mouse to get great curls.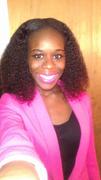 A nice step, but completely unmanageable
I admire this company for trying to do make human hair extensions look and feel like ***** hair that maybe has been blow-dried with one hand stretching the hair, with perhaps a little comb-stretching at the tips. BUT. The cuticle of this hair is rougher than rough. That means it tangles. Instantly. Period. Do not think you're going to wear this and not be completely tangled up in 10 minutes, because you will. If you're going to buy this hair, I suggest sewing clips into the wefts so you can take it out every night. And I mean EVERY night. Maybe you'll be able to comb it out, but you probably won't be. Consider it one-time, disposable hair. For $120+ per pack, I'd suggest investing in a good ***** wig instead.
Worth the money!
This hair gives you what you want. Straight,waves or Afro. Afro is what I like. This hair is not that easy to find in hair shops because of the price. Bookmark this page and buy, buy, buy!
I love love love this hair, top of the line and worth every penny.
My stylist out of Atlanta recommended this hair for fusions. I am currently growing out my perm and this is the perfect match to my natural hair, it is beautiful in any style from straight to curly