Description

Details

NAME: Freetress Braid DOOKIE BRAID SMALL / MEDIUM / LARGE (Crochet Braid)
COLOR SHOWN ON MODEL: 1B
MATERIAL: Synthetic
TYPE: Braid / Bulk
LENGTH: LONG
HEAT SAFE: Yes - Up to 350ºF-400ºF
DESCRIPTION:

Crochet and latch hook
Freetress is made of fiber exclusively developed to resemble the touch and feel of human hair.
Enjoy the smoothness and bounciness of this fine product.

HAIR CARE INSTRUCTIONS

Always comb bottom of hair first and work your way up to the root.
Do not use hot curler at regular setting. This fiber can only be curled at 350F ~ 400F
When removing, always consult your professional beautician.

Additional Information

Additional Information

| | |
| --- | --- |
| Brand | Freetress |
| SKU | KDOLG |
| Features | Crochet Braid, Futura / Heatable |
| Crimp | Twisted / Braided |
| Special Color & Mix | Blue / Green / Purple Mix, Vivid Colors |
| Special Price | $3.90 |
Customer Reviews
Write a Review
Ask a Question
Wish they were bigger!
They are functional and I can't wait to install them. I did think they would be thicker. My mistake. It appears to be about 9 strands per pack.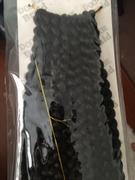 BRAID IT! 24 inches 11 per pack
The braids are so soft and so nicely constructed. I highly recommend. Shipping time was ideal...just in time for my cruise vacation. There are 11 braids per pack ( a bit cheap if you ask me), that's a Freetress issue not EBONY Online. I purchased 13 packs and I need two more. Of course, I have no time to order them so I'll have to go to my local beauty supply store and buy look-a-likes that are not as nice as the Freetress.
FREETRESS BRAID DOOKIE BRAID MEDIUM (CROCHET BRAID
I just received purchase.I ordered 10 packages to have full head. I still didnt apply on my hair but braids looks very soft and light. They are braided to the end of the hair. In every package are 11 braids and all braids looks same. They are 24 inch long.1B color match perfect my hair. The day of the order was March 7th and if UPS wouldnt make little mistake in delivery it would be at my door March 11th. So very fast shipping.Before order I contacted company with some questions and they were very nice!Thank you so much! I can't wait to apply it!!