Description

Details

Vivica A. Fox Remi Human Hair Lace Front Wig BELLAGIO

23" LAYERED LOOSE BODY CURL
Color Shown: FS4/27
Styled from our popular "Britney" wig, bouncy and natural loose body curls create Bellagio's soft and elegant look.
Collection : LACE FRONT
Hair Type : Remi human hair
Style : Curly
Length : Long

Additional Information

Additional Information

| | |
| --- | --- |
| Brand | Vivica A. Fox |
| SKU | vivica-bellagio |
| Crimp | Curly |
| Special Price | $82.49 |
Customer Reviews
Write a Review
Ask a Question
Awesome wig
This piece looks and feels great on. Quality wig for the money you invest.
follow up on Bellagio
I purchased a second Bellagio in color FS 4/27. My first Bellagio unit was in color FS4/30 and is wearing very well and is still as silky soft as she was when I initially purchased her. which is pretty good as I wear this unit all day and sleep in her as well. _x000D_ _x000D_ My head size is small petite average, so I had to put a couple of tucks into the back of the cap, however, the lace front sits perfectly. So I would say the cap in on the larger side of average. The lace front is still holding up well to constant wear._x000D_ _x000D_ What I love about this wig is, if you could not be bothered to style her, she still looks lovely and natural, just left to dry naturally. I have attached a picture of her unstyled. This is my daughter's favorite wig on me as she says the hair looks totally natural._x000D_ _x000D_ My new Bellagio in FS 4/27 is gorgeous. I am in love with the blonde highlights. I have attached pictures of both my new and old units.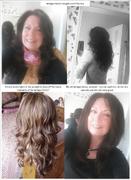 I LOVE this wig . It's now my new favourite!
The hair is soft and silky and the curl is gorgeous. The deep lace front cap contains three combs for security. _x000D_ After I trimmed the lace front, I was surprised how well the lace sits on me. I can wear this wig without any glue. The lace front looks so realistic, nobody knows I am wearing a wig. I purchased the Bellagio in the color FS4/30. I have attached pictures of the Bellagio both before and after I cut in a soft bang.